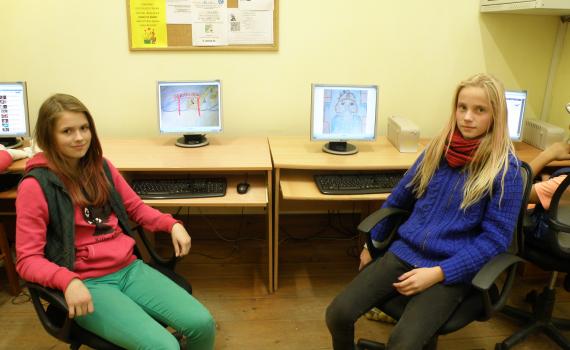 Every month, 20 children attend Pelči Library's 'Little school of local history', where they research the library's digital history collection and make animated films about the past.
The library's popular local history classes are stimulating children's curiosity about the past, improving their creative and analytic skills and building their confidence.
The children work in teams. After choosing a topic and conducting research, they draft a story based on history and legend. They draw and paint scenes from the story, and using a scanner, digitize the drawings. They use the library's computers and free software to create an animated film, adding text, sound effects and titles.
After they have discussed and edited the film, it is screened at community events.
Children add a new dimension to the library's work
The library (Pelču Pagasta Bibliotēka) serves the rural village of Pelči (population 1,100) in western Latvia, and has been researching and digitizing local history for many years.
"By involving children in June 2014, and teaching them how to research and select material from our digital collection, we added a new and exciting dimension to our work," said Mrs Daina Girvaite, library director.
Three films about Pelči Palace
So far, the main focus of the children's attention has been Pelči Palace, a 100-year-old manor house in the centre of the village that is a major tourist attraction and the source of many local legends. The children have already made three films about the palace.
Aiva, aged 14, is now an enthusiastic historian: "I have been interested in the history of Pelči since I was very young, because my grandma told me many interesting stories. I feel proud to participate in this project, because I love my village.
"In the beginning, it seems difficult, but we work together as a team to find the best solutions. There are many younger children than me, and I gladly choose the most complicated tasks," she said.
"When something positive and inspiring happens in our village, it is good for the whole community. The Pelču Pagasta Bibliotēka films are made with a good sense of humour, but also with great respect for history," said Mrs Dace Cielava, head of the local municipality.
The idea is catching on
The success of the local history classes has spread to other places. Twenty children in a neighbouring village, Snepele, attended a summer camp organized by the library at which they learnt how to make digital animated films. They have expressed a keen interest in local history.
In Pelči, the children have many more ideas for creative history projects. Suggestions include drama using hand-made puppets; interviewing their grandparents, and a publishing a tourist guide illustrated with drawings of historical objects.
Parents take pride in their childrens' achievements.
Edīte Supe's three children – Ilze (15), Ričards (14) and Ieva (9) – all take part in the library's classes: "It is very important for their personal development, they can show their talents; they are learning new technology skills. I am proud of them because they are making an important contribution to local history. I cannot imagine a better free-time activity for my children than this!" said Mrs Supe.
More library services supporting education
Read about more innovative public library services supporting education of children and adults. PLIP-EDUCATION