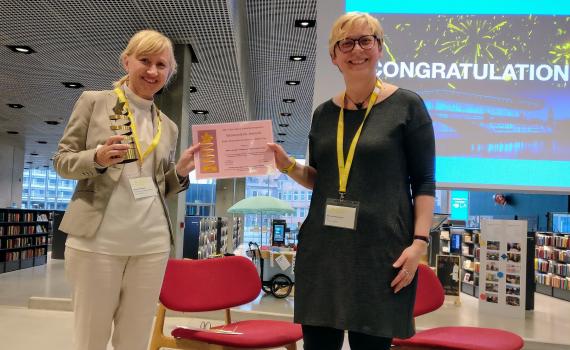 A public library environmental education campaign has mobilized hundreds of students from schools across the town of Bourgas, on Bulgaria's Black Sea coast, to collect plastic waste for recycling.
'Peyo Yavorov' Regional Library's goals are to raise children's awareness about the need to protect the environment, to encourage recycling, and to change children's behaviour in relation to waste. One of the tools they are using to achieve these goals is a 3D printer.
"We launched the environmental education campaign in 2015 with a series of lectures and events. Shortly after that we installed a 3D printer and 3D design software in the library. We realized that the 3D printer, which uses plastic to make models, could help us to get our messages about protecting the environment across to children," said Mariya Bencheva, head of 'Peyo Yavorov' Regional Library.
STUDENTS DESIGNING ECO-FRIENDLY TECHNOLOGY
Before they learn to use the 3D printer, all the children must go out and collect plastic waste.
In 3D modelling and printing sessions, librarians teach students about the components of the plastic that the printer uses, and point out the potential to use recycled plastic to make objects.
They encourage students to think about environmental issues like clean air and renewable energy in their designs for the 3D printer. Students are now making models of eco-friendly technology (equipment and products that do not harm the environment when used). For example, one group of students has designed a model of a wind turbine for generating electricity.
The library publicized the campaign with high schools and kindergartens across the town. Students at nine schools are now collecting plastic waste in special containers that the library has placed in their school playgrounds. When the containers are full the students bring them to the library, and go with librarians to the plastic recycling plant, where they can see for themselves how plastic is transformed for reuse.
'THE EXPERIENCE HAS CHANGED HOW I THINK'
"The 3D printer provides a great opportunity to make objects with practical and ecological value - and the awesome idea of recycling plastic has made me think more about the  possibilities of reusing the waste that is polluting our city," a student, Martin Stanimirov Ivanov, told the library.
At some schools, students are now integrating the library's messages into their school projects, for example, at 'Konstantin Fotinov' High School, students are conducting research into how using recycled plastic can decrease the need for manufacturing plastic.
Teachers have written to the library, confirming changes in the children's attitudes: "They now know how much nature depends on our behavior. Nowadays before throwing away anything as waste they think how it could be recycled. Thank you very much!" the letter said.