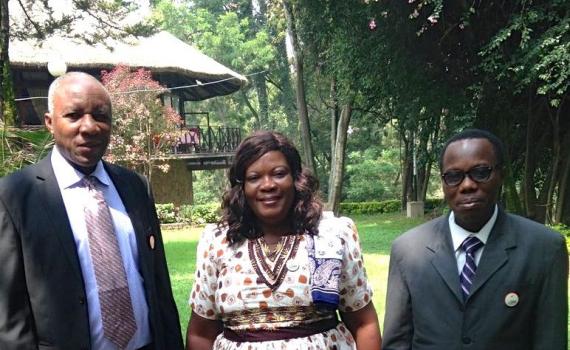 BACKGROUND
In Ghana, and in many other developing countries, research has limited social and economic impact because it is not widely available and accessible. Restricted access to research is also an obstacle to the production of new knowledge. Open access (OA) provides a solution by making scientific research visible and freely available online.
Before 2011, there was limited awareness about OA in Ghana. Just one university, Kwame Nkrumah University of Science and Technology (KNUST), which is based in Kumasi in Ashanti Region, had set up an OA institutional repository, KNUSTSpace. KNUST was also the first university in Ghana to introduce policy mandating OA to theses and dissertations.
EIFL has supported OA in Ghana since 2011, by raising awareness about OA and promoting creation of OA institutional repositories, and encouraging OA publishing and development of institutional OA policies. Our main partners have been the Consortium of Academic and Research Libraries in Ghana (CARLIGH), KNUST and the Association of African Universities (AAU).
There has been progress across all areas. By 2017, nine more universities and colleges had set up institutional OA repositories. The Ghana Council for Scientific and Industrial Research (CSIR - the body mandated by the government to carry out scientific and technological research for national development) had adopted an OA policy that will make the vast amount of knowledge that scientists at its 12 member institutes have generated over the years openly available online. Steps towards open access publishing have included setting up and testing an OA publishing platform.
"Africa cannot attain sustainable development without access to knowledge and information sharing. Knowledge sharing is also important to higher education to facilitate national development." - Professor Olugbemiro Jegede, Secretary General of the Association of African Universities.
MAIN ACTIVITIES
OA institutional repositories:
In 2011, EIFL supported the launch of an advocacy campaign to create awareness about how OA institutional repositories benefit scholarship and research.
Organized the first national OA awareness-raising meeting in 2011. The meeting was attended by about 100 heads of tertiary institutions, directors of government ministries and agencies, and researchers and librarians from Ghana and other African countries.
Conducted OA capacity building workshops for librarians, lecturers, researchers and regional and national government officials.
Trained university IT staff on how to install DSpace free and open source software for running OA repositories.
Used radio talk shows to raise awareness about OA among general public and other stakeholders who could not attend events
In 2017, began an audit, which is continuing, of OA repositories to make sure that they follow best practices and include new functions that make repositories more user-friendly and enable easier sharing of research.
OA publishing:
In 2012, funded a project to pilot Open Journal System (OJS) in Ghana. The project was implemented by KNUST Library, the KNUST Department of Publishing Studies and the Public Knowledge Project.
Raised awareness of journal editors OJS software, and trained them to use the software in publishing processes.
OA policy:
In 2015, launched an OA policy project with the CSIR and its 12 member institutions: Animal Research Institute; Building and Road Research Institute; Crops Research Institute; Food Research Institute; Forestry Research Institute of Ghana; Institute of Industrial Research; Institute for Scientific and Technological Information; Oil Palm Research Institute; Savanna Agricultural Research Institute; Science and Technology Policy Research Institute; Soil Research Institute, and the Water Research Institute.
Set up an OA policy group at CSIR, and, after consultation with CSIR members, drafted an OA policy for CSIR.
TIMELINE
2011-2017
ACHIEVEMENTS
Nine more universities and colleges in Ghana have set up institutional OA repositories: University of Ghana, (ir.uew.edu.gh:8080/jspui) University of Education, beta.uds.edu.gh University for Development Studies, Ashesi University, Presbyterian University, University of Cape Coast, Central University, Christian Service University and Kumasi Polytechnic.
The CSIR has adopted an OA policy that will make the vast amount of knowledge its scientists have generated over the years openly available online.
KNUST has extended its OA policy to cover all research outputs. The KNUST repository currently includes 10,608 titles.
KNUST has installed OJS software for publishing the university's journals.
THE FUTURE
Based on results of the audit of institutional OA repositories, EIFL and CARLEIGH will support improvements to existing repositories. CSIR is committed to introducing a training course on open access, open data and open science - the first in Ghana - for early career researchers. CSIR are preparing a curriculum and course materials for training that will be offered on a regular basis.
For further information, contact Iryna Kuchma: iryna.kuchma@eifl.net
READ MORE ABOUT OPEN ACCESS IN GHANA