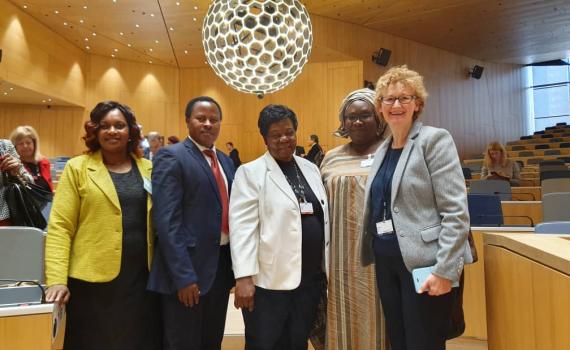 BACKGROUND
EIFL has been engaged in copyright work in Kenya since 2008.
We have provided training and built capacity among librarians in copyright and advocacy with our partner, the Kenya Libraries and Information Services Consortium (KLISC).
We have responded to public consultations on copyright law proposals that concern libraries, educational institutions and liability of internet service providers (such as libraries that provide digital services) that led to improved provisions, and we have made recommendations for library-friendly amendments to the law. 
Through advocacy and technical support, we contributed to adoption of the Marrakesh Treaty for persons with print disabilities - Kenya ratified the treaty in 2017 - and its implementation into national law. We also engaged with the Kenya Copyright Board (KECOBO) to share their national experience of adopting the treaty with other countries in the region.
In 2020, we are working with KLISC towards a fair outcome in negotiations for a proposed US-Kenya Free Trade Agreement (FTA) to ensure that any FTA supports the work of libraries in Kenya providing access to knowledge for education, research, and community development.
Read a profile of Professor Joseph Kavulya, who supports copyright reform in Kenya, EIFL Annual Report (2021) here.
TIMELINE
2008 - 2023
Main activities and achievements
Co-organized a workshop, 'Promoting Access to Knowledge and the Right to Research', 26 April 2023 with the Centre for Intellectual Property and Information Technology Law (CIPIT), Program on Information Justice and Intellectual Property (PIJIP) and KLISC, in cooperation with the Kenya Copyright Board (KECOBO) The event brought together national and international copyright experts from academia, the legal, policy and regulatory fields, and key stakeholders from the research, education, library and disability communities. Watch video highlights here.
Co-hosted webinars with KLISC and the Kenya Copyright Board

Artificial Intelligence / Big Data / Text and Data Mining, 3 March 2022. The webinar introduced copyright issues relating to Artificial Intelligence (AI), Big Data and Text and Data Mining (TDM, the potential of AI and the context for its use in Kenya, as well as the international perspective on copyright issues and AI. It helped to identify legal gaps at national and international levels, and steps needed to support the development of TDM/AI and Big Data as digital research tools.
Fair Dealing and other Copyright Exceptions, 10 February 2022. The webinar raised awareness of fair dealing and other exceptions in the Kenya Copyright Act, and identified challenges among user communities in using these provisions. It took a look at reforms in the region (Nigeria), and the evolution of fair dealing internationally.
The Marrakesh Treaty in Kenya, 3 December 2021. The webinar introduced the Marrakesh Treaty and why it is important for libraries, described the relevant provisions in Kenya's copyright law, explained who is authorized to use the provisions, and identified areas that might need to be clarified in the law. It also covered the practical experience of libraries in Zimbabwe that are getting ready to use the treaty, and positive experiences of libraries around the world that are benefiting from cross-border exchange enabled by the treaty. Click here for the programme with links to the speaker slides.
 

Built capacity of library leadership in copyright issues and advocacy:

From 2008 to 2019 EIFL Copyright Coordinators in Kenya attended six EIFL training events: the Global EIFL-IP conference, Istanbul (2008 and 2009); Copyright Management Seminar, Kampala (2009); Library copyright statutes around the world, online (2016); Regional Seminar 'Ending the book famine in Africa: libraries and the promise of the Marrakesh Treaty', Lesotho (2017); Civil Society Workshop on Copyright and Advocacy, Nairobi (2019).
KLISC librarians participated in international policy-making at WIPO: Regional Seminar for the African Group on Libraries, Archives, Museums and Educational & Research Institutions in the Field of Copyright, Nairobi (2019); International Conference on Copyright Limitations and Exceptions for Libraries, Archives, Museums and Educational & Research Institutions, Geneva (2019).
In 2019, the first librarians from Kenya took part in negotiations on library exceptions and limitations at WIPO's Standing Committee on Copyright and Related Rights (SCCR/39), Geneva (2019).
 

Draft proposals on the liability of Internet service providers (ISPs) were improved, and the meaning of certain provisions were clarified: ISP liability is of great interest to libraries that provide digital services, such as Internet access to their users, as well as indexes and location tools to third party websites.

2015: Responded to an invitation by the Kenya Copyright Board to stakeholders to comment on draft proposals to provide web blocking measures in cases of online copyright infringement.  Comments by EIFL and KLISC on ISP liability proposals highlighted serious problems with two provisions: the short notice to disable access to allegedly infringing material (36 hours), and the imposition of harsh criminal and civil penalties when the ISP does not disable access upon receiving a takedown notice.
 

Provided recommendations for library-friendly amendments to copyright law: EIFL provided comments and has responded to public consultations on proposals for copyright law amendments that concern disability (implementing the Marrakesh Treaty), libraries, and educational institutions. 
Engaged in advocacy for a fair outcome for the US-Kenya Free Trade Agreement: In Free Trade Agreements that contain a chapter on Intellectual Property, libraries are concerned with copyright issues. Typically four main issues are of concern: term of protection, limitations and exceptions, technological protection measures (TPMs), and enforcement measures.

2020: EIFL and KLISC prepared a Fact Sheet on the Proposed US-Kenya Free Trade Agreement, to raise awareness of the negotiations, and potential issues for libraries among the library community in Kenya.
EIFL is coordinating a working group with Kenyan and US civil society to seek the best outcomes for libraries in Kenya.