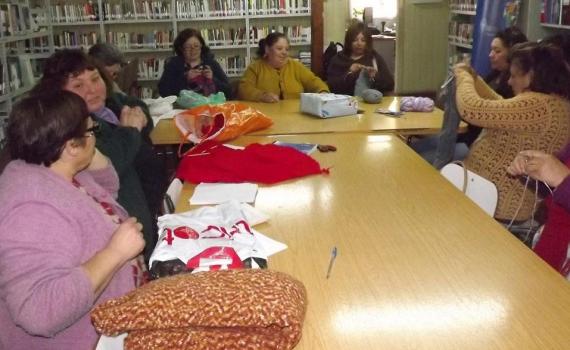 Community need 
El Bollenar is a small community of about 7,000 people. There are no factories or businesses in the village, and so breadwinners must travel to far away towns and cities to earn a living. Because they must look after their children, mothers struggle to work and to contribute to family income. Any extra income is treasured, especially in winter when heating costs are high.
the innovative service
Through the library's Moonlight Women's Workshop, a group of women have developed a business model that successfully integrates modern computer and internet skills with traditional sewing and embroidery learnt from their mothers and grandmothers. The service is increasing the women's income, and improving the lives of over 60 people, all members of the women's families.
Free access to computers is fundamental to the women's success
Members of the Moonlight Women's Workshop (Taller de Mujeres Luz de Luna) meet every Wednesday and Saturday, in the library's craft room, and make a variety of products – clothing, gifts and household goods like curtains, mats, doilies and tablecloths – for their own use and to sell.
Free access to the library's computers is fundamental to the group's success. The Moonlight Women's Workshop members use the computers to do market research, showcase their work online, locate factories, email companies and take orders saving time and the cost of travelling to urban centres. They also research the internet for new ideas for embroidery designs and clothing patterns. "The library has enlarged my soul," Mrs Monica Dias told library staff.
See photos of the Moonlight Women's Workshop in action, and samples of their produce.
more libraries empowering women and girls
Read about more innovative public library services that empower women and girls.  PLIP-WOMEN-AND-GIRLS