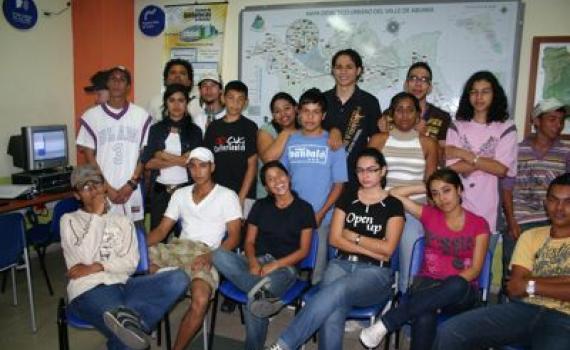 community need
San Javier-La Loma is a mixed working class and farming neighbourhood of about 25,000 people on the outskirts of Medellin, Colombia's second largest city. Homes are close together, roads are narrow and some places are only accessible on foot.
Public Library San Javier-La Loma, a branch of the Medellin public library network, was eager to offer the community services focused on their needs. But they ran into a problem – there was no recent map of the area: the last official map was dated 1971. Modern San Javier-La Loma was invisible to Colombia and the world.
the innovative project
Librarians found a solution in the concept of community mapping, a process through which communities decide what to include in maps and create maps of their own neighbourhoods. Over 400 residents of San Javier-Loma are involved in the library's project, bringing memory, photos and stories about their day-to-day experience to the mapping process. The new maps are online, and the members of the community can constantly update them to reflect changes in their location and lives.
San Javier-La Loma is now mapped in more detail than any other part of Medellin. Access roads and footpaths, markets and businesses, statistics, farms and factories, historical, religious and cultural sites, schools and social services are all included in their living online maps. Click the links to take a look: OpenStreetMap (maposmatic.net/maps/99015/PHZRQAFOtfVUMLac) MapOSMatic; Crowdmap.
"Our project brought positive change to people's way of life by strengthening values like tolerance and emphasizing the idea that responsibility for the community is shared by individuals and public institutions," said Gabriel Jaime Vanegas Montoya, librarian and coordinator of the community mapping project.
Creative use of ICT
The mapping process uses computers and the internet, digital cameras and voice recorders. The library engaged experts in free Open Source mapping software to teach members of the community to create maps. 
The library also uses 'balloon mapping'. This involves filling balloons with helium, suspending a digital camera from the balloons and allowing the balloons to drift over the chosen area. The digital camera is programmed to take photos, and the balloons are attached to a string. When the camera has taken enough photos, a participant reels in the balloons.
watch the library's video about 'balloon mapping'
MORE PUBLIC LIBRARIES CONTRIBUTING TO DIGITAL INCLUSION
Read about more innovative public library services contributing to digital inclusion. PLIP-DIGITAL-INCLUSION