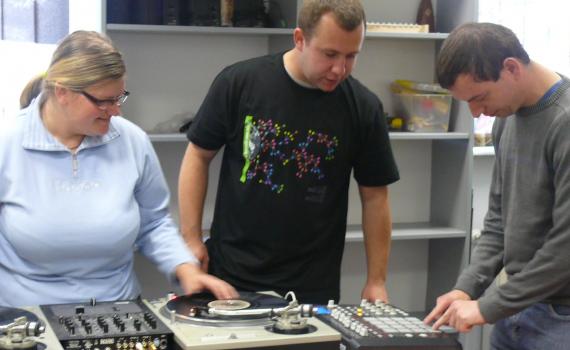 the innovative service
In the town of Olsztyn in Poland, Olsztyn Municipal Public Library's ICT laboratory is well known as the MultiCentre. Its doors are open to people with all kinds of needs and interests, and of all ages – the youngest user is three and the oldest is over 80.
In the MultiCentre people compose music, draw caricatures, produce media like movies, animation and posters, and build robots. Skills courses are divided into four modules: MultiArt, MultiMusic, MultiScience and MultiTech.
'Yes They Can!' 
An especially keen group is young people living with disability, who come to the centre to learn skills and have fun as part of the library's 'Yes They Can!' programme. Since 'Yes They Can!' began in 2010, the library has worked with 750 disabled children and young adults.
A favourite is the MultiTech module, in which the children build toys, like aeroplanes, fire engines and carousels, and learn digital robotics to make the models move.
Creative use of ICT
People who come to the MultiCentre will find computers loaded with music, art, graphic design and problem solving software. MultiCentre users can try drawing on graphics tablets, which wirelessly transmit images to computer screens, and use audio mixers to mix music and play it back through speakers.
To make robots, children use K'NEX blocks,especially designed with moving parts. Working on computers, children create simple computer programming language, which is transmitted to tiny electric engines that make the robots move.
more public libraries contributing to digital inclusion
Read about more innovative public library services that contribute to digital inclusion. PLIP-DIGITAL-INCLUSION