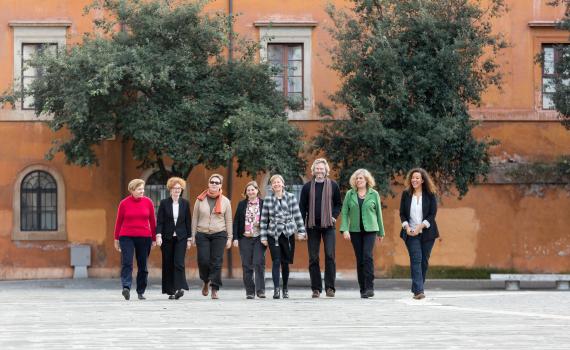 Posted by
Simona Siad
, Communications Manager, January 16, 2014
Happy New Year!
The EIFL team has been busy preparing and planning a wide range of activities to be implemented this year.
Read below to see what each EIFL programme will be focusing on in 2014.
EIFL-Licensing
The EIFL-Licensing programme will coordinate an exciting new project in Myanmar from January 2014. Funded by the Open Society Foundations' Higher Education Support Program, and backed by the Myanmar Ministry of Education, the eLibrary Myanmar project will open up new opportunities for education and research.
We will continue to renew expiring licence agreements, and will aim to sign agreements for at least two new e-resources. We will also run at least three webinars, and will continue to promote awareness and usage of e-resources across the EIFL library network.
EIFL-IP: Copyright and libraries
In 2014, the EIFL-IP programme will focus on capacity building, and national and international copyright law reform. Highlights will include supporting the attendance of EIFL librarians at sessions of the World Intellectual Property Organization (WIPO); awarding small grants for national copyright law reform campaigns; promoting implementation of the Marrakesh Treaty for persons with print disabilities (2013); and advocating for an international copyright treaty for libraries and archives.
EIFL-FOSS: Free and open source software
As the latest phase of funding for the EIFL-FOSS programme has ended, we will not have a paid staff member for the EIFL-FOSS programme in 2014. Simon Ball, formerly Manager of the EIFL-FOSS Programme, will continue to provide his expertise and knowledge to the FOSS community through the FOSS section of the EIFL website. EIFL-FOSS tools and resources will continue to remain available on the EIFL website.
EIFL-OA: Open access
The EIFL-OA programme will partner in two new European Commission-funded projects – FOSTER (Fostering Open Science Training for European Research) and PASTEUR4OA (Open Access Policy Alignment Strategies for European Union Research).
Ten case studies of open access advocacy campaigns in Europe, Asia and Africa will be released. We will continue to support open access advocacy and policy developments, while also supporting the growth of OA institutional repositories and journals in EIFL partner countries. We will work with universities, research organisations and national research councils on pilot projects that explore new metrics for research assessment and evaluation.
East Africa will still be a special focus for us as we implement a project funded by the Swedish Program for ICT in Developing Regions (SPIDER) in Kenya, Tanzania and Uganda.
EIFL-PLIP: Public Library Innovation Programme
The EIFL-PLIP programme will start the New Year with the announcement of six winners from Africa, Europe and Latin America for the EIFL-PLIP Innovation Award for Creative use of ICT.
We will launch several exciting new and innovative public library services for children and youth in June, when we will name the successful applicants for our current global grant call.
We will expand our work in Africa, supporting new public library services and starting capacity building programmes for librarians. We will build on past work with public libraries in Ghana, Kenya, Tanzania and Uganda, and are exploring possibilities for future partnerships in Ethiopia and Nigeria.
To support the Africa programme, we welcome new staff member George Gathenya, who joins the EIFL-PLIP team as Africa Projects Coordinator. George will be based in Nairobi.
Thank you for your support
We would like to thank our library partners, funders and friends around the globe for continued support in our collective goal to improve access to knowledge.
Please continue to stay connected with EIFL on our Facebook, Twitter, LinkedIn and Google+ pages.