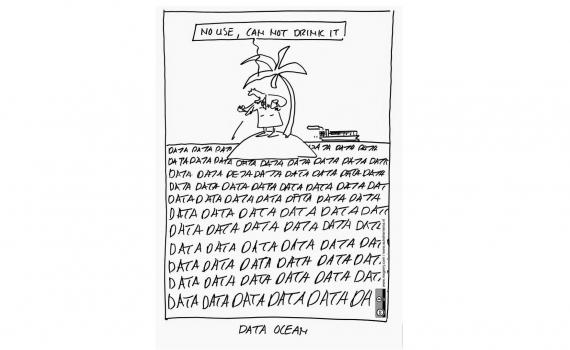 Posted by
Iryna Kuchma
, Open Access Programme Manager, June 22, 2021
Iryna Kuchma, EIFL Open Access Programme Manager, highlights Research Data Management training programmes offered by our partner institutions in Estonia, Ethiopia, Lithuania and Serbia.
Sharing research data is a part of good research practice. It helps to cut down on academic fraud, validates the research results, leads to scientific breakthroughs, and potentially, to more citations for journal articles. It increases the use and reuse of data and brings economic benefits as well. 
Libraries have been on the front lines of the new era of open science, and are well positioned to offer Research Data Management (RDM) training together with other training programmes they've been successfully implementing throughout the years.
TEACHING RDM TO PHD STUDENTS, ESTONIA
University of Tartu (UT) Library in Estonia started teaching the basics of Research Data Management (RDM) in 2015. The RDM module was a part of a course titled 'Introduction to Information Research', which 400 doctoral students have completed. Based on positive feedback from students, the library, in collaboration with the UT Natural History Museum,  designed a new stand-alone online course for PhD students: 'Research Data Management and Publication'.  
The UT Library teaches Introduction to Open Science, Data Management Plan (DMP) and Open Data Search. Doctoral students create their DMPs and receive guidance, feedback and evaluation. They also improve their FAIR data skills and learn from good and bad examples how to make their own data FAIR (Findable, Accessible, Interoperable and Reusable).
The course is updated and held twice a year in Estonian and in English. Last year the course was nominated as one of the best six online courses in Estonia and it was granted a quality mark. 
RDM is also a part of an optional course for PhD students curated by the UT Ethics Centre: 'Research Integrity: Framework Requirements, Values and Principles of Action', which is taught in Estonian and English in different semesters. 
Read more in UT Data Librarian Tiiu Tarkpea's  blog post - and congratulations to our UT colleagues for such a wonderful initiative!
RDM TRAINING FOR RESEARCHERS IN ETHIOPIA
Open science programmes in Ethiopia are the result of a long-term EIFL and Consortium of Ethiopian Academic and Research Libraries (CEARL) partnership. The Ministry of Science and Higher Education Open Access policy to publications and data, and similar policies in four universities - Addis Ababa University (AAU), Arba Minch University, Hawassa University and Jimma - are the direct results of this partnership. 
In July 2020, the AAU Vice President for Research and Technology Transfer approved the AAU Data Repository, Sharing and Use Policy, and tasked the AAU library with RDM training for AAU grant recipients. Over 50 researchers have been trained so far via a one-day training programme conducted for principal investigators about RDM. 
AAU Library has become widely known for its RDM training, and regularly receives requests for training for faculty and students from different units of the university. The demand is especially high from life sciences disciplines, which are data intensive. For instance, Aklilu Lemma Institute of Pathobiology (ALIPB), based at AAU, recently asked the library to train PhD students in RDM, open access publishing and related open science concepts. AAU Library also supports other institutions with RDM training, for example, the Ethiopian Institute of Agriculture Research.  
AAU School of Information Science has included RDM in its Master of Science programme curricula, and RDM, data science and big data analytics are part of Research Methods courses. RDM is also covered in the Emerging Technology course for AAU PhD students, and 20 PhD students have been trained so far. 
This year, AAU library will be adapting a curriculum from the Swedish National Data Service and training researchers and students in AAU and three other universities in the country. 
Huge thanks to Dr Melkamu Beyene Ababu, Assistant Professor, School of Information Science, Director of Addis Ababa University Library, and Chairperson of CEARL for sharing this story! 
DATA MANAGEMENT PLANS, LITHUANIA
Kaunas University of Technology (KTU) library in Lithuania has offered RDM workshops, webinars, training sessions, courses and web-based training materials since 2015. 
KTU requires Data Management Plans (DMPs) from all doctoral students and DMPs are also mandatory for projects funded by the Research Council of Lithuania, so the demand for training is growing. KTU library has collected useful introductory materials for training, and is learning on the journey. 
EIFL supported KTU Library to develop a Moodle-based RDM course that was approved by the Doctoral Programme in Educational Science in 2018. Today it is offered as an optional course in Lithuanian, and includes the following topics: Research Data; Data Management Plan (DMP); RDM Guidelines, Standards and Tools; Legal and Ethical Issues; Data Licensing and Data Citations; Using and Sharing Data; Data Repositories and Archives and Open Science Initiatives.
Ieva Cesevičiūtė, Head of Research Information Services at KTU library, recommends using RDM horror stories to attract researchers' attention, for example, a data management horror story from the NYU Health Sciences Library and short RDM Horror Stories from the EPFL Library. 
She has some useful advice for effective RDM and DMP support: "We need an interplay of the following elements: RDM policy and institutional regulations, user-friendly infrastructure and state of the art tools, competences, knowledge and skills, and training and support to develop them. And we also need to follow global trends and seek to implement them on the national and institutional level, and seek support from stakeholders, raise awareness, develop the competence of researchers and administrative staff, and be proactive!" 
Watch the recording of Dr Cesevičiūtė's presentation at the EIFL's webinar on training researchers and students on writing DMPs, which is  one of the topics included in the EIFL Digital Research Training Programme Outline for Librarians. And thanks for sharing your story!
RDM WORKSHOPS IN SERBIA
RDM training in Serbia is shared and delivered by the Serbia.RDM team, a diverse group that includes researchers and university professors, librarians and  IT specialists from different institutions. Together they run in-person and online workshops for researchers and librarians. 
The workshops usually kick-off with researchers' experiences and discussion of the benefits of opening data, followed by presentation of 'what' and 'how' to - general introduction to RDM and FAIR data principles, importance of metadata (and librarians are really good on that topic!), best practices for sharing data reported in journal articles, researchers' experiences again - debunking myths about open data, sharing incentives to open datasets and explaining the anonymization process for sensitive and personal data. 
Watch the recording of Obrad Vučkovac's talk from the University of Belgrade, Vinča Institute of Nuclear Sciences, Republic of Serbia, at EIFL's webinar on training researchers and students on RDM, and check out slides and some other useful training resources! Our thanks go to all the webinar speakers! 
Does your library have a Research Data Management training and support story to share? Let us know (iryna.kuchma [@] eifl.net) and we will be happy to feature your work!