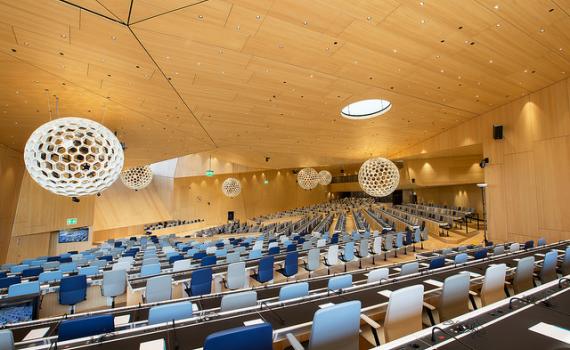 EIFL is participating in negotiations at the Standing Committee on Copyright and Related Rights (SCCR) of the World Intellectual Property Organization (WIPO), that meets once again in Geneva from 29 June to 3 July 2015.
EIFL and partners from the international library and archive communities will advocate for minimum global standards that address challenges faced by libraries in the digital environment, in particular cross-border issues such as international document supply, so that libraries can properly support modern education, research and access to knowledge.
EIFL's Teresa Hackett, Copyright and Libraries Programme Manager, will also speak at a lunchtime event 'Libraries and Archives: Information without Borders' on 30 June 2015 organized by IFLA for member state delegates and others attending SCCR. In addition to EIFL, speakers from the European Bureau of Library and Documentation Associations (EBLIDA), Society of American Archivists (SAA), and LIBER will debate how information in our interconnected world, that depends on access to digital information, is held behind a confusing array of national copyright exceptions and limitations, and by restrictive licences.
To assist discussions at SCCR, WIPO released an updated and revised edition of the WIPO Study on Copyright Limitations and Exceptions for Libraries and Archives prepared by Prof. Kenneth D. Crews in June 2015. For the first time, laws related to copyright exceptions from all 188 countries that are current members of WIPO are gathered and analyzed. Coverage of topics such as copies for research & study, copies for preservation & replacement, inter-library loan or document supply, making available and anti-circumvention has been expanded.
The SCCR session will be webcast and a live transcript will be available. Follow the discussions on Twitter #SCCR30.
Background: Copyright and libraries: 186 varieties - time for one global framework