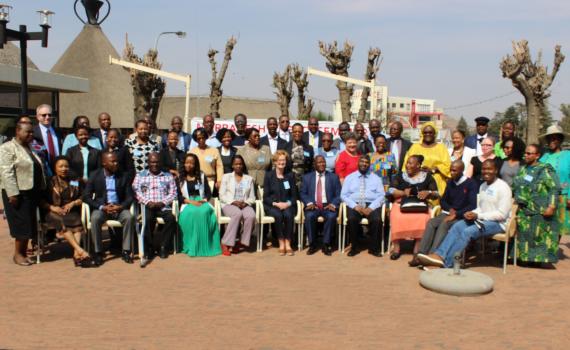 To fulfill the promise of the right to read for blind, visually impaired and other print disabled people, EIFL is supporting ratification of the Marrakesh Treaty in partner countries, and its implementation into national copyright law.
The Marrakesh Treaty (official name: Marrakesh Treaty to Facilitate Access to Published Works for Persons Who Are Blind, Visually Impaired, or Otherwise Print Disabled) improves access to knowledge for print-disabled people by giving organizations like libraries the right to reproduce printed works in accessible formats such as braille, audio, large print and digital formats, and to exchange these works across national borders.
In Lesotho, the Lesotho Library Consortium (LELICO) is taking the lead in advocating for accession to the Marrakesh Treaty. EIFL has worked with LELICO since 2005, building library capacity in copyright issues. Through the partnership with LELICO, EIFL Copyright Coordinators in Lesotho have attended three EIFL training events: Regional Copyright Training, Uganda (2005); Copyright and Libraries global conference, Istanbul (2008 and 2009).
Background
According to the 2006 Population and Housing Census, an estimated 3.7 per cent of the population of Lesotho has some form of disability (the percentage of children with disabilities is said to be higher).
The most prevalent forms of disability relate to visual and hearing impairment. Disabled people in Lesotho face daily challenges getting access to education, employment and health care, and are among the most marginalized and disadvantaged groups in the country.
Two schools in Lesotho's capital city, Maseru, provide primary and secondary education to blind and visually impaired children from all over Lesotho.
The lack of accessible reading materials – known as the 'book famine' - is partly a result of barriers created by copyright law, barriers that the Marrakesh Treaty seeks to remove.
By removing copyright law barriers to accessible information and culture, the Marrakesh Treaty also helps to implement important provisions of the UN Convention on the Rights of Persons with Disabilities that was ratified by Lesotho in 2008 (including in particular Article 9 Accessibility, Article 21 Freedom of expression and opinion, and access to information, and Article 30 Participation in cultural life, recreation, leisure and sport).
Timeline
2016 – 2018
Main activities and achievements
In May 2016, EIFL reviewed the Lesotho Copyright Order, 1989, concerning provisions on disability as well as libraries. The copyright law review was one outcome of a workshop organized by LELICO and the Registrar General's Office in February 2016. Other recommendations from the workshop included the need to raise awareness among policy-makers and parliamentarians to build political support for the Marrakesh Treaty.
On 12-13 September 2017, EIFL, LELICO and the Registrar General's Office co-organized a high-level seminar 'Ending the book famine in Africa: libraries and the promise of the Marrakesh Treaty' in Maseru. The seminar was attended by 70 people including Ministers and Members of Parliament in Lesotho, inter-governmental organizations, copyright experts, teachers, librarians, and representatives of people living with disability. During the seminar, a national action plan 2017-2018 for implementation of the Marrakesh Treaty in Lesotho was drafted.
 
On 1 November 2017, the Minister of Education and Training, Honourable Mokhele Moletsane, who participated in the seminar in Maseru, announced that Lesotho would ratify the Marrakesh Treaty at the 39th Session on of the General Conference of UNESCO. Read the statement by the Minister of Education and Training to the UNESCO General Conference.
Next steps
EIFL is continuing its work with LELICO to support accession to the Marrakesh Treaty in Lesotho, and it implementation into national law.
FIND OUT MORE