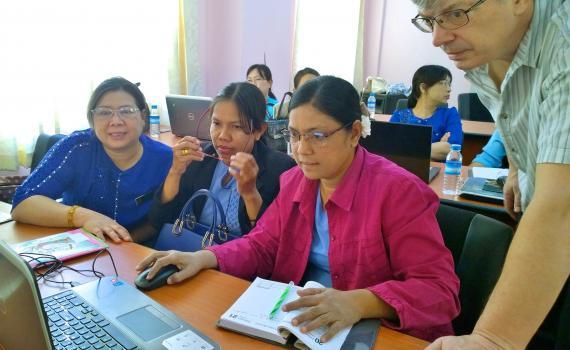 BACKGROUND
As Myanmar opens up to the outside world after decades of isolation, universities across the country are embracing the concept of open access (OA).
EIFL has been working with two leading universities, University of Mandalay and University of Yangon, to set up OA institutional repositories. There are 158 universities under the Myanmar Ministry of Education, and several more are also keen to set up OA repositories.
EIFL'S OA support is part of the EIFL e-Library Myanmar project, which was created to enable libraries at universities under the control of the Ministry of Education to provide effective support for teaching, research and learning.
"Open access is essential for us to achieve the university's vision. We need access to up-to-date scientific publications, and to be able to make our research visible and available to scientists and researchers in Myanmar and the international community." - Professor Dr Thida Win, Rector, University of Mandalay.
MAIN ACTIVITIES
EIFL – in association with the University of Mandalay, the University of Yangon and Yadanabon University – ran a series of seminars in February 2015 on 'Open access: How to maximise the impact, efficiency and availability of your research'.
As a result of the seminars, the University of Mandalay and the University of Yangon set up OA working groups to develop institutional OA repositories and draft OA and repository policies. The working groups included Rectors, Pro-Rectors, faculty members, librarians and PhD students.
To support the two OA working groups, EIFL invited Fred Chan, Research and Data Services Librarian from the University of Hong Kong (HKU) Libraries, to attend working group meetings in May 2016. Chan shared HKU's experiences of adopting an OA policy, and running the HKU OA repository. Chan also visited four more universities (Yangon University of Economics, Dagon University, West Yangon University and East Yangon University), to share HKU's approach to OA.
EIFL collaborated with KnowledgeArc, a UK-based company, to provide a DSpace platform to host the two repositories until technology infrastructure and support at the two universities is ready.
TIMELINE
2015 - 2017
ACHIEVEMENTS
Created institutional OA repositories at University of Mandalay and University of Yangon, opening up their research to the world. The repositories include  peer-reviewed journal articles, research papers, and papers from selected international conferences.
The University of Mandalay adopted an institutional OA policy stating that all journal articles published from January 2007, and final copies of  PhD students' theses, are to be deposited in the repository.
Raised awareness on OA at seven universities: University of Mandalay, University of Yangon, Yadanabon University, Yangon University of Economics, Dagon University, West Yangon University and East Yangon University.
PROGRESS
The EIFL eLibrary Myanmar project will continue to provide training and support to University of Mandalay and University of Yangon until their technology and skills have improved sufficiently for the repositories to be transferred to servers at the two universities.
The eLibrary Myanmar project is now ready to work with other institutions in Myanmar that produce research and would like to set up OA repositories.
For further information, contact Iryna Kuchma: iryna.kuchma@eifl.net
FURTHER READING
Read Iryna Kuchma's blog, An amazing year for open access in Myanmar.
Read more about the EIFL eLibrary Myanmar Project