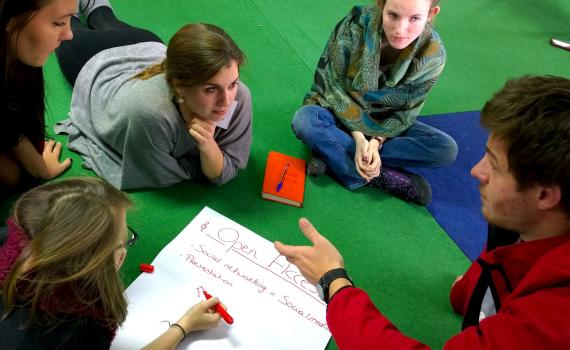 BACKGROUND
European Union (EU) Member States and the European Commission (EC) have recently taken a number of steps to ensure greater alignment of research and innovation with societal needs.
Among these was the funding of FOSTER (Facilitate Open Science Training for European Research), which has succeeded in putting in place sustainable mechanisms for EU researchers to foster open science in their daily workflows.
OVERVIEW OF THE FOSTER PROJECT
FOSTER supported various stakeholders in Europe, especially young researchers, to adopt open access (OA) and to comply with OA policies and rules for implementation of Horizon 2020, the EU's biggest research and innovation programme.
The FOSTER initiative's main activities centred on integrating OA, open data and open science principles and practices into research workflows by providing training for young researchers.
EIFL'S ACTIVITIES IN THE FOSTER PROJECT
EIFL played a major role in FOSTER project training activities by -
Leading and coordinating training activities of the project.
Facilitating development of e-learning courses.
Developing training materials.
TIMELINE
1 February 2014 - 31 August 2016.
ACHIEVEMENTS
During the FOSTER project -
A portal that contains training material on open access, open data and open science was created: https://www.fosteropenscience.eu/. It includes reusable training materials, and  17 self-learning courses and eight moderated e-learning courses in six languages (English, Estonian, Latvian, Polish, Portuguese and Spanish).
A Toolkit for Training Sessions was developed. The toolkit offers tested and proven guides for organizing different kinds of training events for four key audiences: academic staff (researchers) and students; institutions (administrators and librarians); research project managers, and policy-makers and staff working in funding bodies.  The kinds of  training events described include panel discussions, talks by experts, workshops, e-learning and others.        
Over 6,000 participants, mostly young researchers, took part in over 180 training events in 28 European countries.
A dozen universities introduced accredited courses on open access, open data and open science for their students. Among the universities are two institutions from EIFL partner countries, Tartu University in Estonia and Kaunas Technical University in Lithuania.
FOSTER developed an open science taxonomy, defining and structuring the different components of open science to improve young researchers' understanding of open science and its benefits. The resulting Open Science Taxonomy Tree - a diagrammatic representation of open science and its various components - has been used to structure the e-learning portal so that it is easy to navigate. The Open Science Taxonomy has been accepted by the  research community (to find out more, see the Open Science Taxonomy tree in Knoth, Petr; Pontika, Nancy (2015): Open Science Taxonomy).
PROJECT PARTNERS
There were 13 project partners, including EIFL. See the full list of project partners here.
PROJECT PUBLICATIONS
All project publications are available here.
GET INVOLVED IN FOSTER