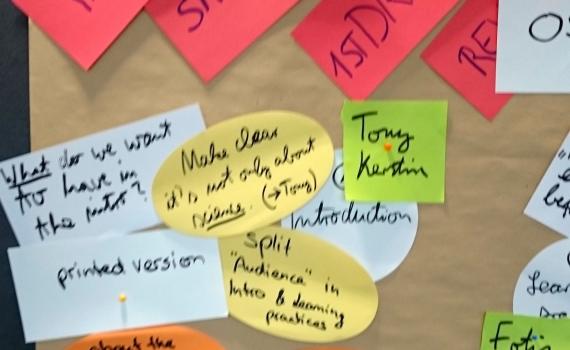 Posted: February 23, 2018
During a week-long 'book sprint' organized by the FOSTER project, experts from 10 countries, worked for five days to create the first draft of an online handbook for Open Science trainers.
The handbook authors and the FOSTER (Facilitating Open Science Training for European Research) project are now calling for comments on the draft handbook. Everyone who is interested in Open Science is invited to comment. The deadline for comments is 4 March 2018.
The Open Science Handbook will provide a comprehensive overview of practical resources and tools to support trainers who would like to teach and inspire researchers on Open Science topics. In addition to providing basic information and knowledge about open science, the handbook offers insights into learning and training practices and includes plenty of practical examples and exercises, and a chapter with tips and tricks for organizing your own open science training event.
Click here to access the draft handbook and add your comments (before the end of 4 March 2018). EIFL is especially welcoming comments from EIFL partner countries so that perspectives from developing and transition countries are included in the handbook.
Find out more about FOSTER and the Open Science Handbook
EIFL is a partner in the European Union-funded FOSTER project and is responsible for coordinating all training activities for the project. EIFL Open Access Programme Coordinator Gwen Franck took part in the 'book sprint' workshop on behalf of EIFL.
Read the FOSTER blog post about the Open Science handbook and the 'book sprint', which took place in Hannover, Germany, from 12 - 16 February.